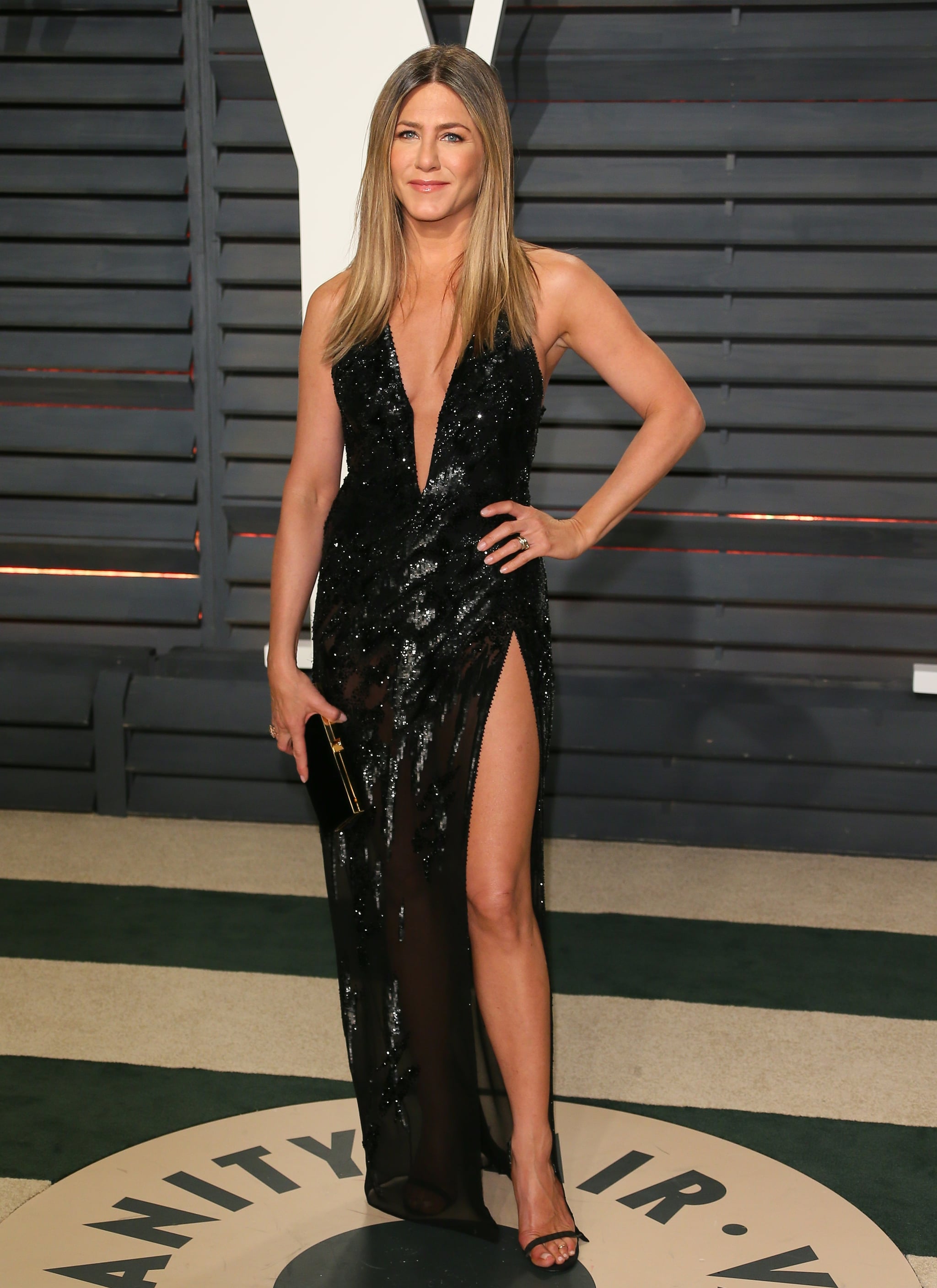 Image Source: Getty / JB Lacroix
I view working out in the same light that I view dating. It's something I should be doing more of, but find every excuse not to do it. Spring cleaning every inch of my apartment sounds more fun than crawling into a pair of spandex pants and hitting the gym. Researching rent control and formulating a plan to negotiate my 2018 rent with my landlord also sounds more fun than yanking on a sports bra and doing squats.
But as my 30th birthday inches closer and closer, I've started changing my mindset when it comes to working out. I want to enter a new decade as the healthiest version of myself, which means incorporating more vegetables in with my pizza-preferred diet and trying out new workout programs. Before buying a class-pack at a gym or a trendy workout spot like SoulCycle or Barry's Bootcamp, I figured I'd spend a day working out like one of my favorite celebrities. A female who gets healthier looking as she too enters new decades, takes on new acting work, and stays in the news as an advocate for women living their lives not according to any timeline or societal agenda. That celebrity is Jennifer Aniston.
Though when I found out her usual workout regime incorporates a mix of Spin classes, HIIT workout routines, and DVDs from an NYC- and LA-based studio called Body by Simone, I realized that I if wanted to go from couch potatoes to Jennifer's workout plan, I had to take baby steps. I figured since there was a Body by Simone studio less than three miles from my apartment, I'd start there, with a class that Jennifer has described openly and honestly as being so "freakin' hard, it's unbelievable."
Before signing up for a class, I did my due diligence. Body by Simone was started by retired Broadway dancer turned trainer for the stars, Simone De La Rue. She opened her first Body by Simone studio in 2011, and has since trained celebrities from Taylor Swift to Chrissy Teigan. The website describes the workout as a steady combo of dance cardio, bodyweight movements, and high-intensity strength training. The description of the class made it feel like three classes jammed into one, and even before signing up, I felt beads of sweat just dripping down my arms. My dance skills alone are enough to make me want to bow out of this workout, and the words bodyweight movement and high-intensity strength training are the kinds of things I have nightmares about. But I signed up for an 8:30 a.m. class on a Monday, figuring that taking one class would be one baby step toward my goal of entering my 30s as a healthy and strong woman.
I left class imaging how mad my arms were at me — they would refuse to do anything the next day, leaving me in severe pain if I tried to raise them to brush my hair, my teeth, or the tears off my face from repercussions of a tough workout that also taught me one thing: my dance moves should be seen by nobody, ever again.
When I arrived, I was greeted at the front desk and welcomed into the class as the only new person there for the day. The front desk associate introduced me to the teacher, telling her I was new, and while the teacher first looked at me confused as to why I was there, she later on approached me to tell me that her only rule for the class was too keep moving. If I didn't understand the dance moves, which I told her there was a good chance I wouldn't, she told me to just make sure my feet were jiving and my arms were swinging, and I'd be OK. I promised her she'd see a lot of that. But before I could rest easy on the fact that this half dance, half bootcamp class would have me looking like an overly caffeinated jellyfish moving to my own beat, the teacher loaded me up with equipment.
She handed me two sets of weights, three-pound weights and five-pound weights, a set of strap-on weights to buckle around my wrists, a body band, and a mat. Carrying all the supplies from the entrance of the studio 30 feet to my spot in the class was an arm workout in itself.
The class started immediately, with a hit pop song and dance moves that everyone else seemed to know. The teacher later told me that there are around 40 different moves that they use at Body by Simone, so the more times you go to classes, the more you'll learn them. On my first attempt at doing the dance moves, all I managed to do was side step, the grapevine, and bust out a whole lot more default dance-like movements because I just couldn't keep up with the instructor. The dance moves were intricate, and you had to be coordinated. You benefited more from the class if you had a dance background, as it wasn't easy for a beginner to just jump in and understand what was going on.
Next came a sequence of exercises with the three-pound weights, followed by a three-minute dance to another pop song, followed by another set of arm workouts, this time with the five-pound weights. The whole workout followed this pattern of dance, arm workout, dance, arm workout, until the very end. When my arms were shaking from all the bicep curls, triceps curls, and movements for the pectoral and deltoid muscles (which I just had to google to know the names of), I thought the workout was officially over. That's when it just got started. The instructor asked us to buckle these one-pound weights around each wrist, pick up a set of weights, and keep moving. The strap-on weights are what Body by Simone-lovers call BBSxTone-y-Bands, but they look and feel like a torture device. As if my arms weren't already tired, now they had weights attached to them. After a few workouts with the BBSxTone-y-Bands, a few more dance sequences, and a quick ab set, the workout was over.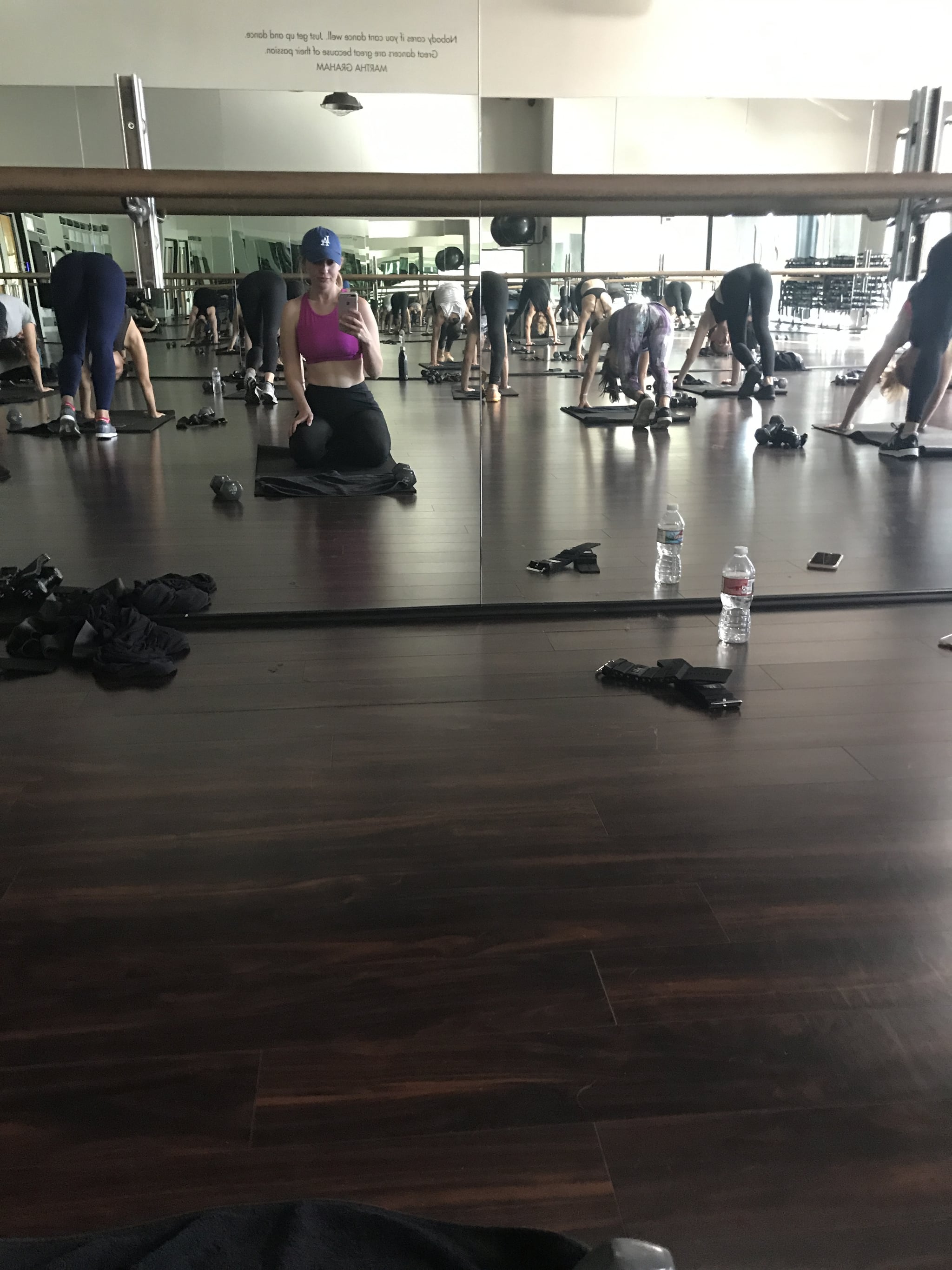 Image Source: Jen Glantz
I felt too weak to pick up all my equipment and bring it back to its respective place, so I didn't. I pushed the equipment, which was laying on a mat, with my feet for 30 feet, enduring looks by BBS regulars and the instructor.
I left class imaging how mad my arms were at me — they would refuse to do anything the next day, leaving me in severe pain if I tried to raise them to brush my hair, my teeth, or the tears off my face from repercussions of a tough workout that also taught me one thing: my dance moves should be seen by nobody, ever again. Not even a room filled with strangers, all hoping to get their body looking like Simone's or Jennifer Aniston's.